Best Airpod Alternatives Black or White (2019 Version)
** If you want the latest tech check out our new 3rd generation Airpod Alternatives 2020 version **
These impressive wireless Bluetooth® earphones have the best sound quality & battery life of any Airpod clone on the market!  They are the perfect earphones for anyone who loves Apple Airpods® but not their price tag!
There are hundreds of really cheap Airpod clones to be found both on the high street and the Internet. The trouble is you end up playing 'retail roulette' as to what you actually get. Most clones are far inferior to the originals (particularly in terms of sound quality and battery life). 
There are a few that are not too bad but the trouble is that unscrupulous manufacturers then make cheap and nasty copies of these clones.  The upshot is that it is very difficult to know if what you're buying is any good.
Inevitably, you get what you pay for - there is a reason the deals on Amazon, Wowcher, e-bay, Airbuds, i7Pro, etc. are so cheap!  If you are unsure whether a website is genuine, please read 7 Tips to spotting a fake e-commerce website
If, on the other hand, you want the best quality sound at a sensible price, then you're in the right place.  All our Airpods are comparable to Apple's in terms of looks, features, sound and build quality.  We offer a full one year warranty to back this up.
If you would like to know exactly how our Alternative Airpods compare to the originals, check out our detailed Airpod Comparison Video blog post.
These are our best selling 2019 version.  If you want the very latest tech then check out our brand new 2020 Airpod Alternatives.
This 2nd generation has the following functionality....
 Touch Control - no more fiddly buttons. Simply touch to answer/end calls, play/pause music, play next song, and activate Siri. (Siri only for IOS system).
 Bluetooth V5.0 - improved wireless connection and battery life.
CVC 6.0 Active Noise Cancelling technology - reduces noise interference from the outside world.
 Automatic Pairing Technology - the wireless earbuds will automatically turn on and connect to your phone so anyone can use them.
4 hours
usage on a single charge. 16 hours of play and 80 hours standby with portable charging case. 
 Premium Packaging - perfect if you are giving as a gift!
What they do...
Our amazing Airpod Alternatives wirelessly connect to any Bluetooth device that plays music.  Most commonly this will be a smartphone, tablet, laptop, or smartwatch (regardless of brand).
Simple to operate, they let you listen to music, or take phone calls, whilst on the go.  Just like the old fashioned earphones but with flexibility and freedom.
They make a perfect gift for anyone who likes Airpods but does not want to pay Apple £160 for the privilege!
What we like most...
💜 Crystal clear rich sound with solid bass
💜 
Ergonomic in-ear design for a comfortable fit that stays in your ears even when running or dancing
💜 Choice of white or black Airpods (for some reason Apple refuses to make black Airpods)
💜 An almost identical match to Apple's Airpods for around half the price!
💜 True feeling of liberation as you enjoy your favourite tunes with no constraints
The details...
Type: Bluetooth wireless earphones
Compatibility: Almost all Bluetooth enabled devices
Listening/Talk time: 4 hours
Standby time: 80 hours
Charging time: 2 hours
Microphone: Yes built in to both earbuds for improved communication
Bluetooth version: 5.0
Style: In-Ear
Time to market: 2019
Active Noise-Cancellation: Yes CVC 6.0 Noise Cancelling technology
Operating range: about 10m (without obstacles)
Control: via multi-functional touch control on back of earpods
Volume Control: No (via paired device e.g. phone)
Frequency Response Range: 20-20000Hz
Bluetooth profiles: HFP/A2DP/HSP/AVRCP
Primary Materials: Plastic
In the unlikely event that there is an issue with your earphones, we provide a 12 month warranty period in which we will be happy to arrange a replacement or a refund, dependent on the nature of the problem.
Delivery Information... 
Order today and you can expect your gadget around *

Your delivery will be tracked and will be delivered via Royal Mail. You will not normally need to sign for your delivery.
* Estimated delivery date (usually a little earlier but may be later)
Customer Reviews
11/05/2020
Emese T.
United Kingdom
Airpod Alt. 2019 SPLENDID !
I have ordered the Airpods Alt. 2019 (black version) and must say that the quality of the sound, bass, treble, power of volume is exceptional !!! It has taken the experience of listening to music to a completely different level ! Crystal clear sound and its quality makes you feel as if you have been dropped right in the middle of the philarmonic orchestra ! The costumer service was second to none, most professional of all encountered before. Fully client centered, prompt and even receiving it before its due date of delivery ! Rich (owner) has a unique business minded mannerism that is hardly seen at other CEO's when it comes to online shopping ! The easiest 5* I ever ticked ! Emese United Kingdom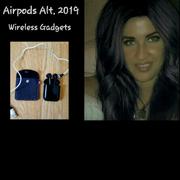 12/05/2020
WirelessGadgets.co.uk
Thank you so much Emese for your kind review! Also, thank you for taking the time to include a product photo. It is customers like you that make all the hard times as a small business owner worthwhile :o)
30/05/2020
Jane Y.
United Kingdom
Excellent Service
I would thoroughly recommend this company. The service felt very personal - I felt I was dealing with a real person. The original order wasn't available so I was upgraded. So far I am delighted with the product. Thank you Rich.
19/05/2020
Jo-Ann B.
United Kingdom
AirPods
Great product. Really good value.
19/05/2020
Catherine D.
United Kingdom
Great service
Great quality and sound, arrived on time. Really pleased with service from wireless gadgets
18/05/2020
Stephen M.
United Kingdom
Airpods
Sleek looking headphones with compact convenient charging case. Great sound quality and very good lasting charged time. Good customer service.